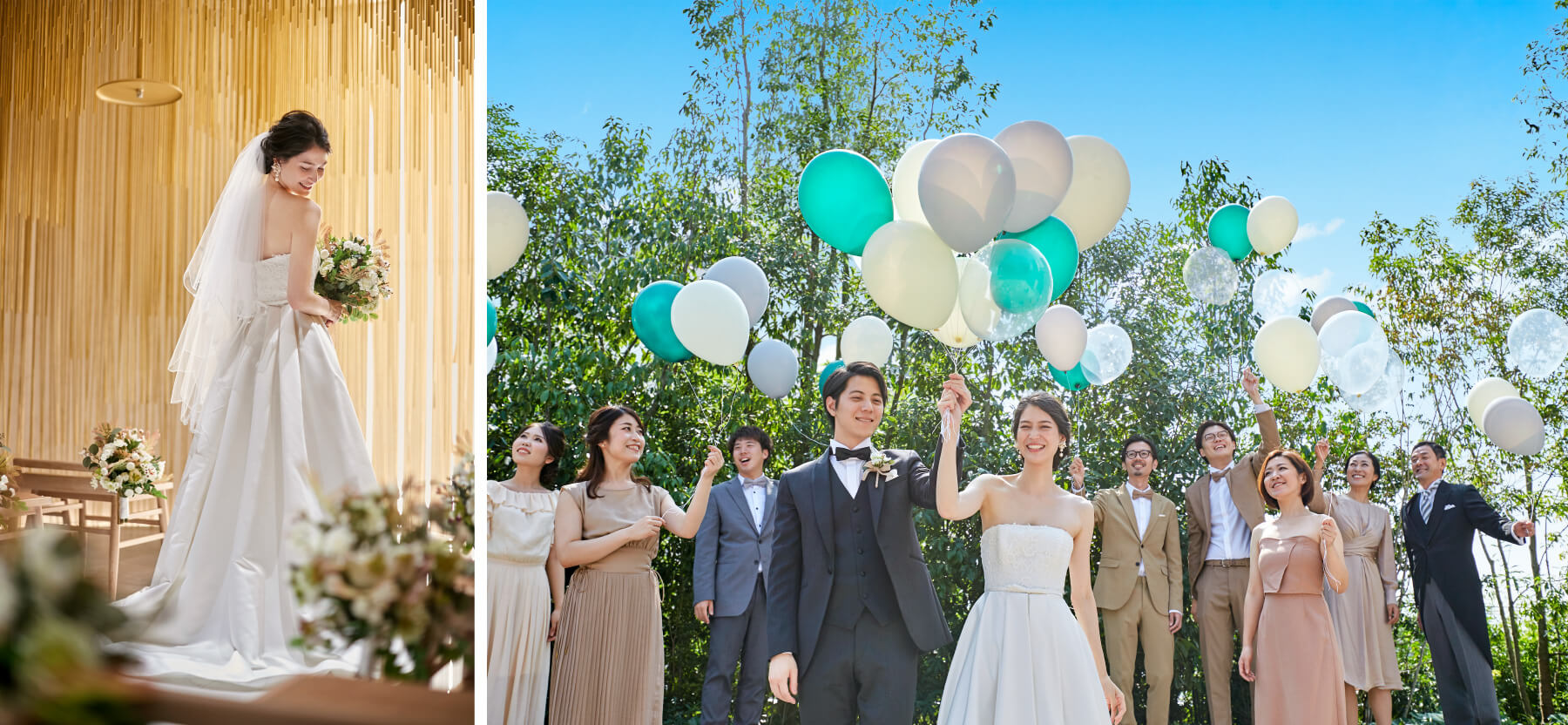 INTRODUCTION
"Chapel of Eternity" Petit Wedding Okayama
Okayama is known as "The land of sunshine", and the Petit Wedding chapel stands in Omomachi, the center of the city. As you enter the door, the mystical lights will lead you through the entrance. In contrast to the solid structure of the building, the salon is enveloped with soft colors and warm lighting. The chapel is designed in the theme of "eternity", which inside, countless lines create a magical atmosphere. Unlike other large venues, we are committed to producing warm and comfortable small weddings, creating memories exclusive for couples, families, and friends.
PLAN DETAIL
Wedding ceremony fee(Civil wedding)

Wedding planner(in Mandrin Chinese or English)

Marriage certificate

Wedding dress
Tuxedo

Accessories(gloves, veil, shoes, tuxedo shirt)

Dressing
Hairstyles & Makeup

Fresh flower bouquet, boutonniere

Chapel decoration

Sound design & Lighting design

Snap photo(about 150 images)
*For more information about the package and price, please don't hesitate to contact us.
PHOTO GALLERY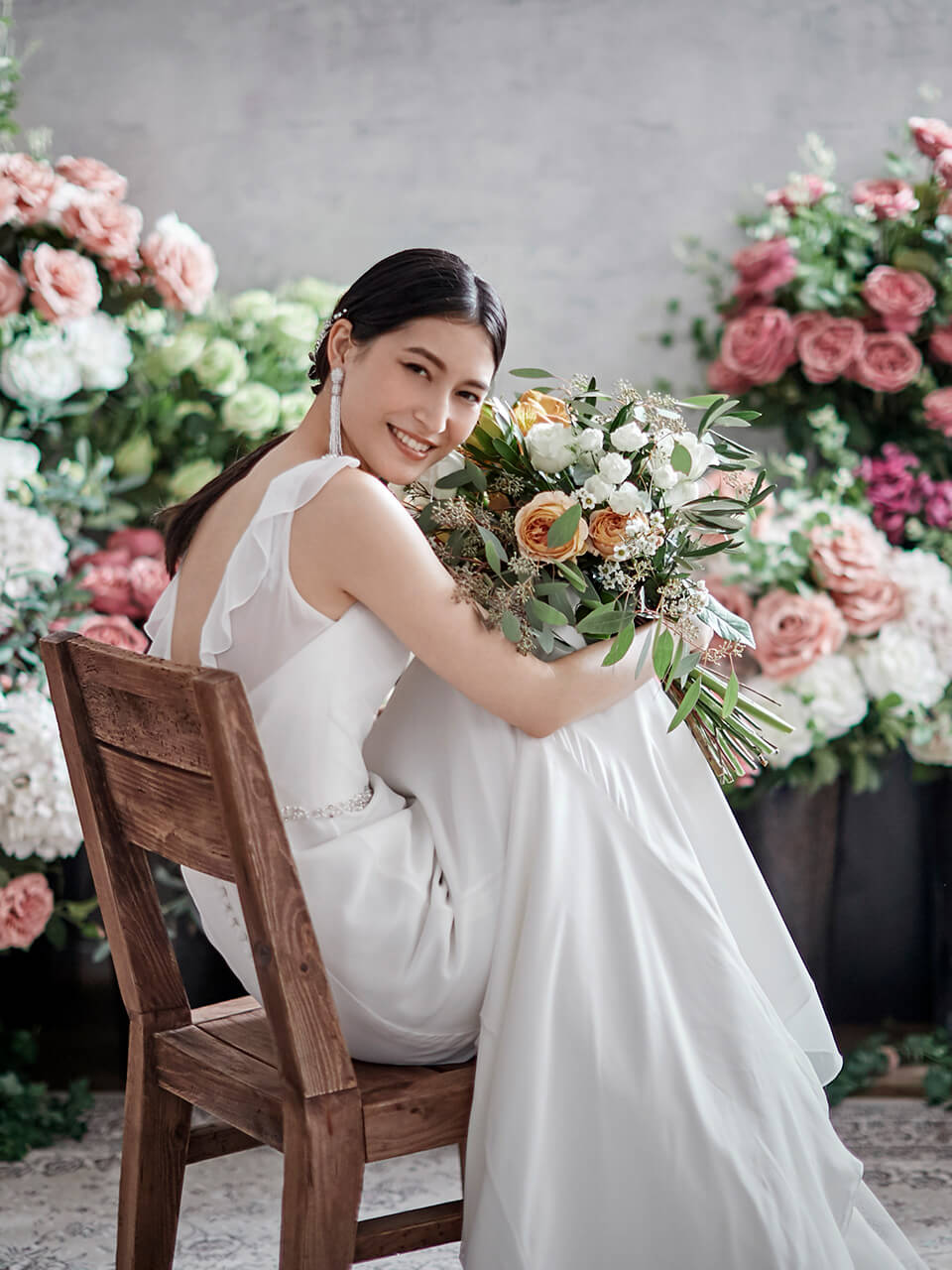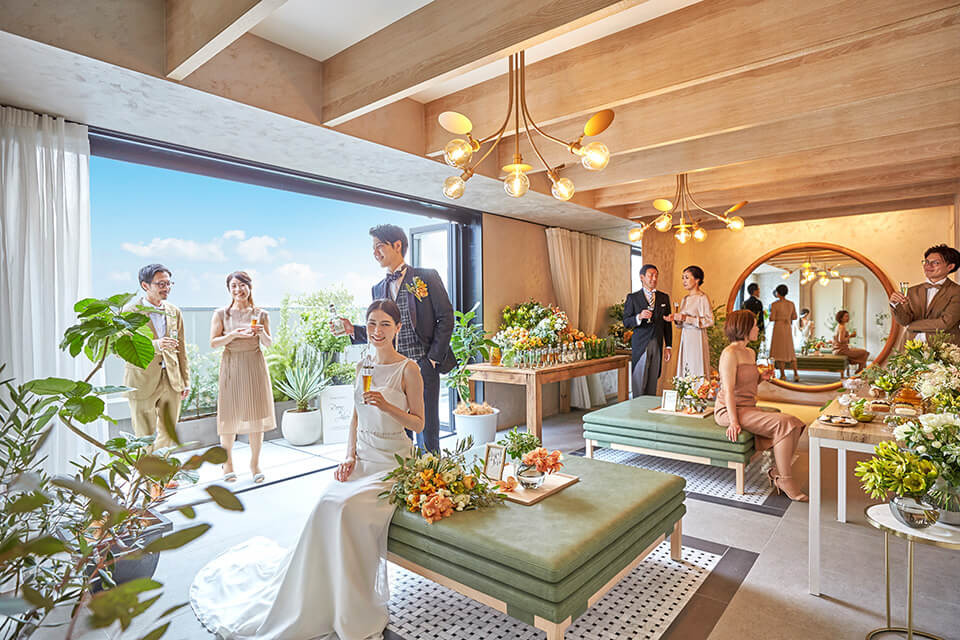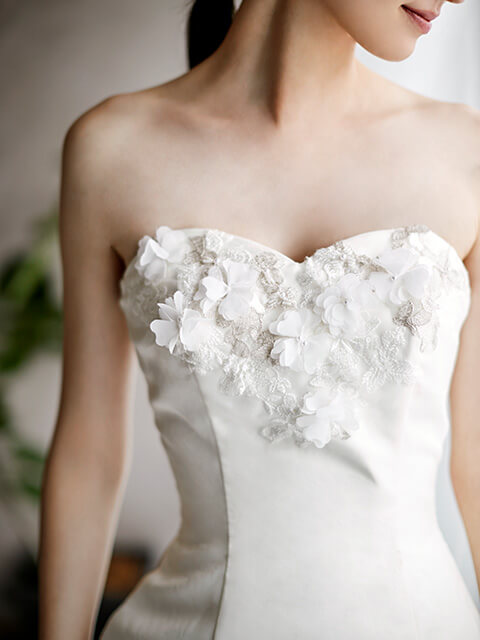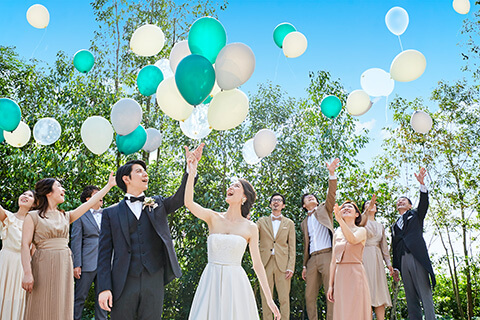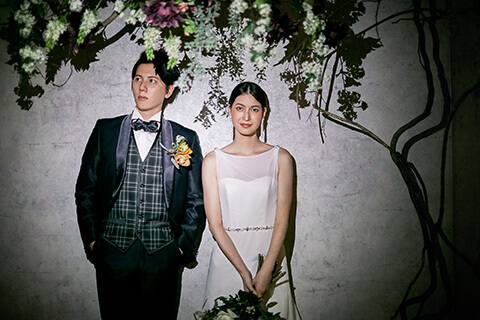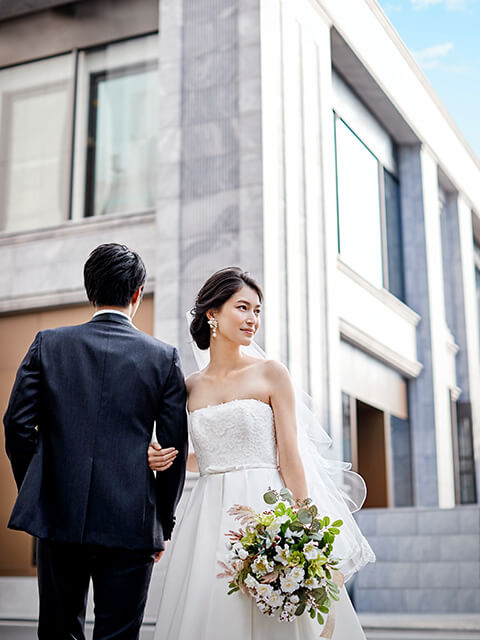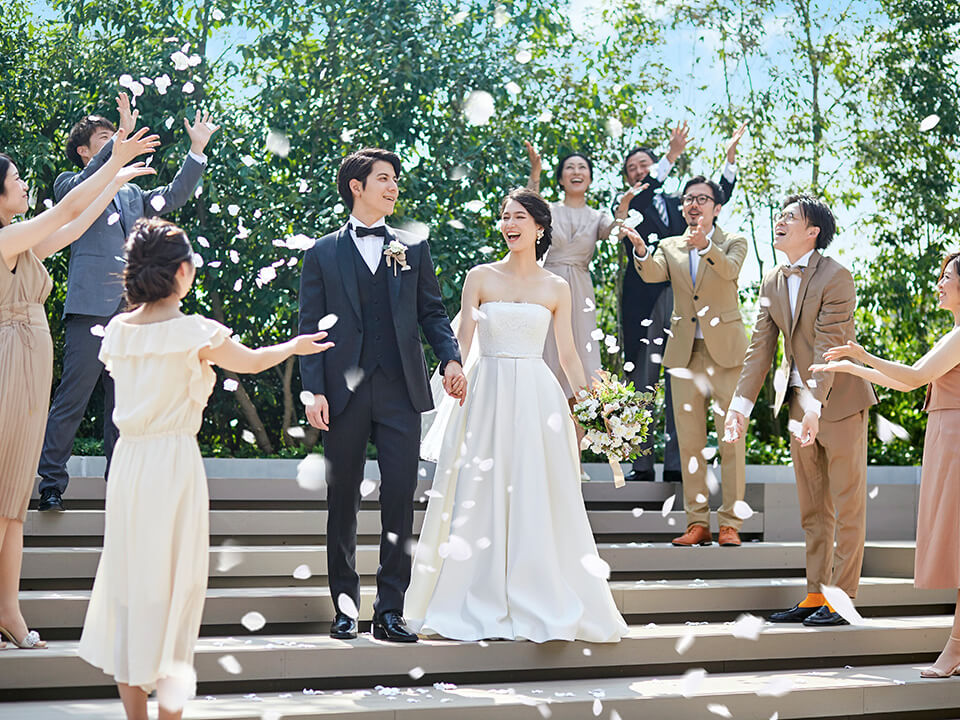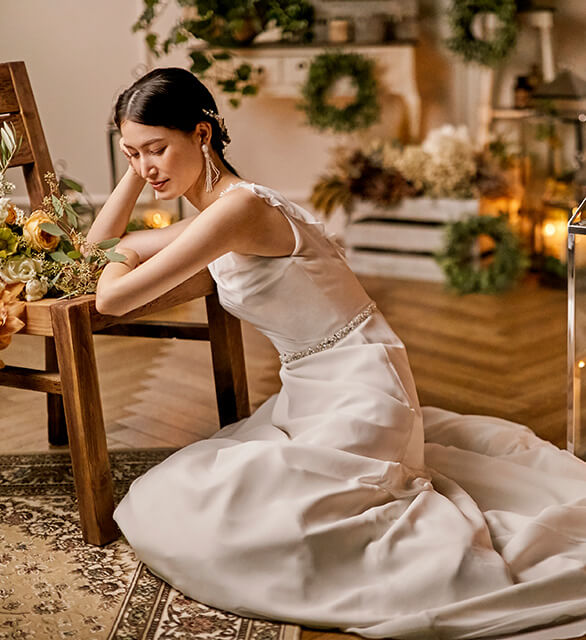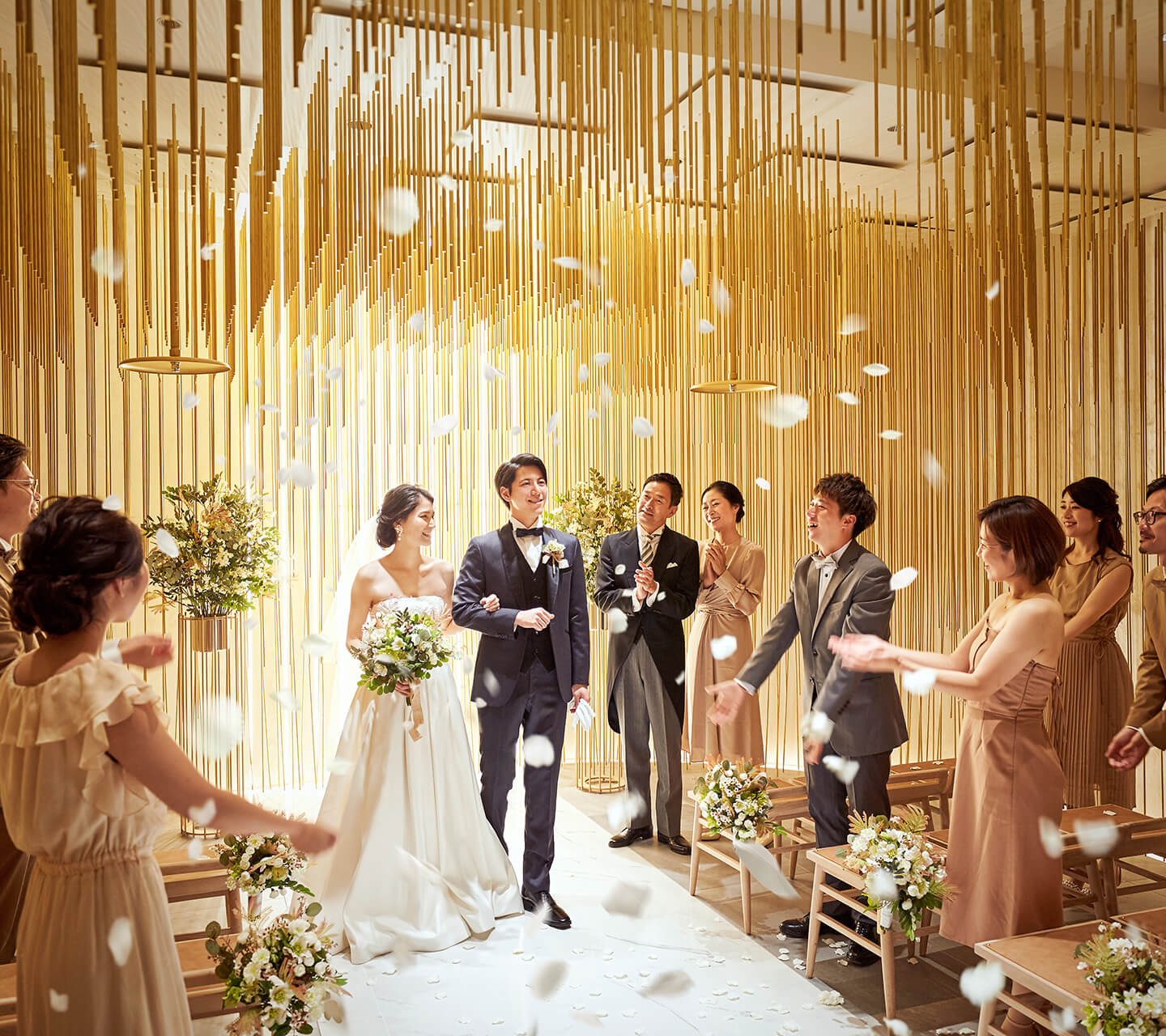 FEATURE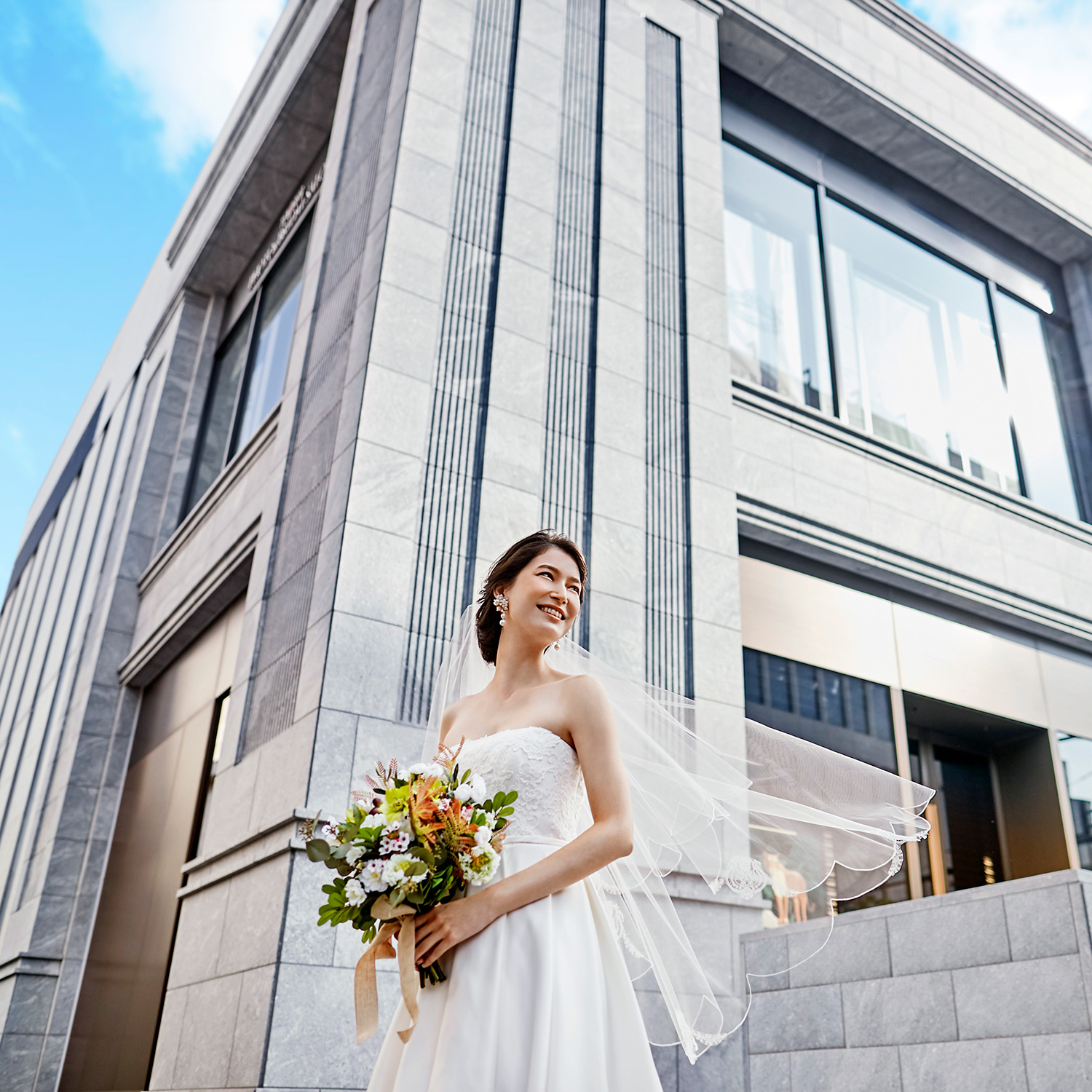 Leading brand in
Japanese weddings
Petit Wedding and La-vie Photography belongs to the same group company. Petit Wedding specialize in wedding ceremonies for small number of guests and was awarded the "Best Hospitality Company Selection" by the Japanese ministry of economy. La-vie Photography celebrates its 25th year for being the leading wedding photography company. Since 1995, La-vie Photography has kept creating new photo values in Japan and in the world.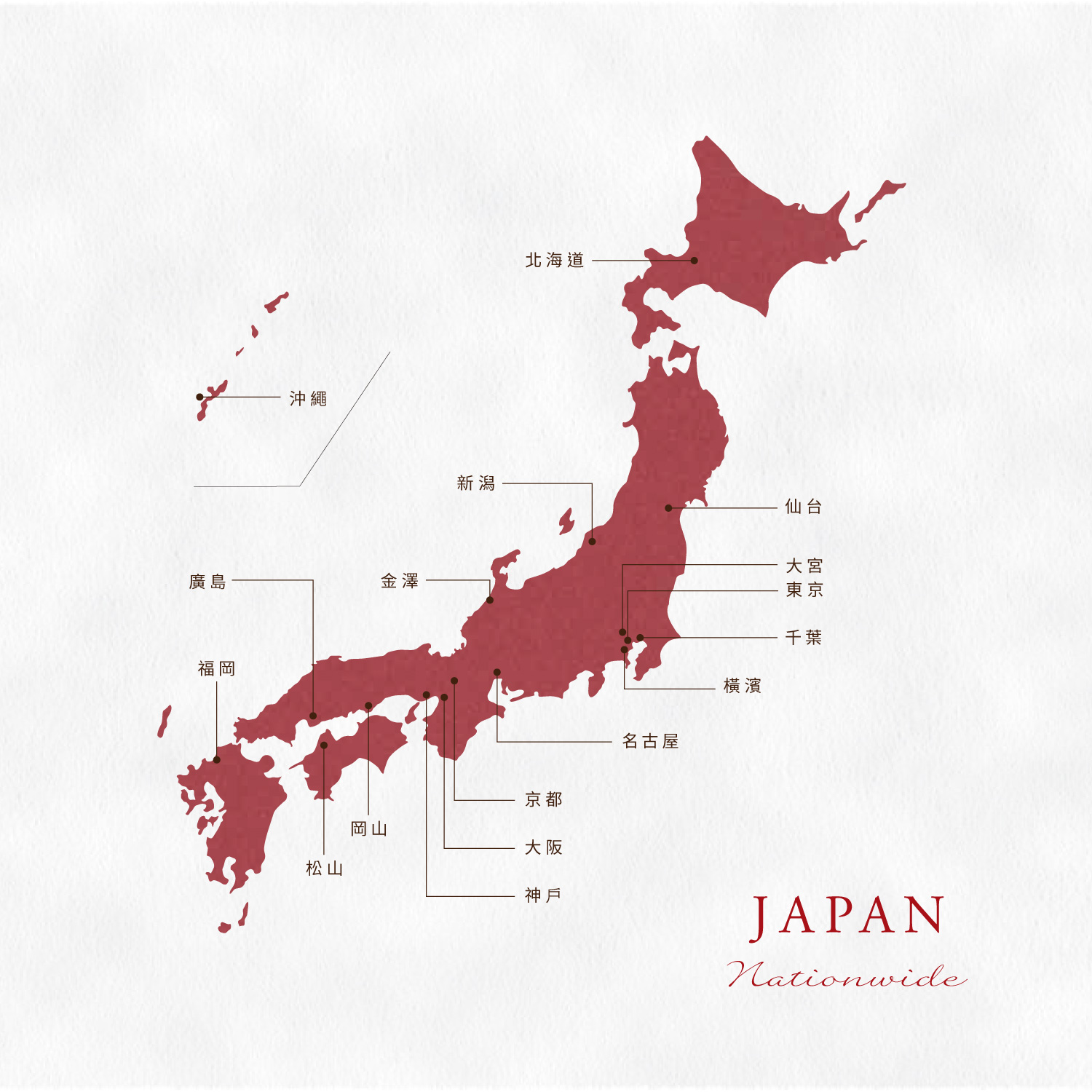 One-stop wedding venue located across Japan
Petit Wedding owns 24 church and chapel located in 16 prefectures across Japan and is independently operated and managed by our company. Our wedding venues are mostly located in the heart of the city for fast and convenient transportation. All venues include dress salons, guest salons, dressing rooms and guest lounges. Some churches also provide restaurants and banquet halls with their own professional chef team.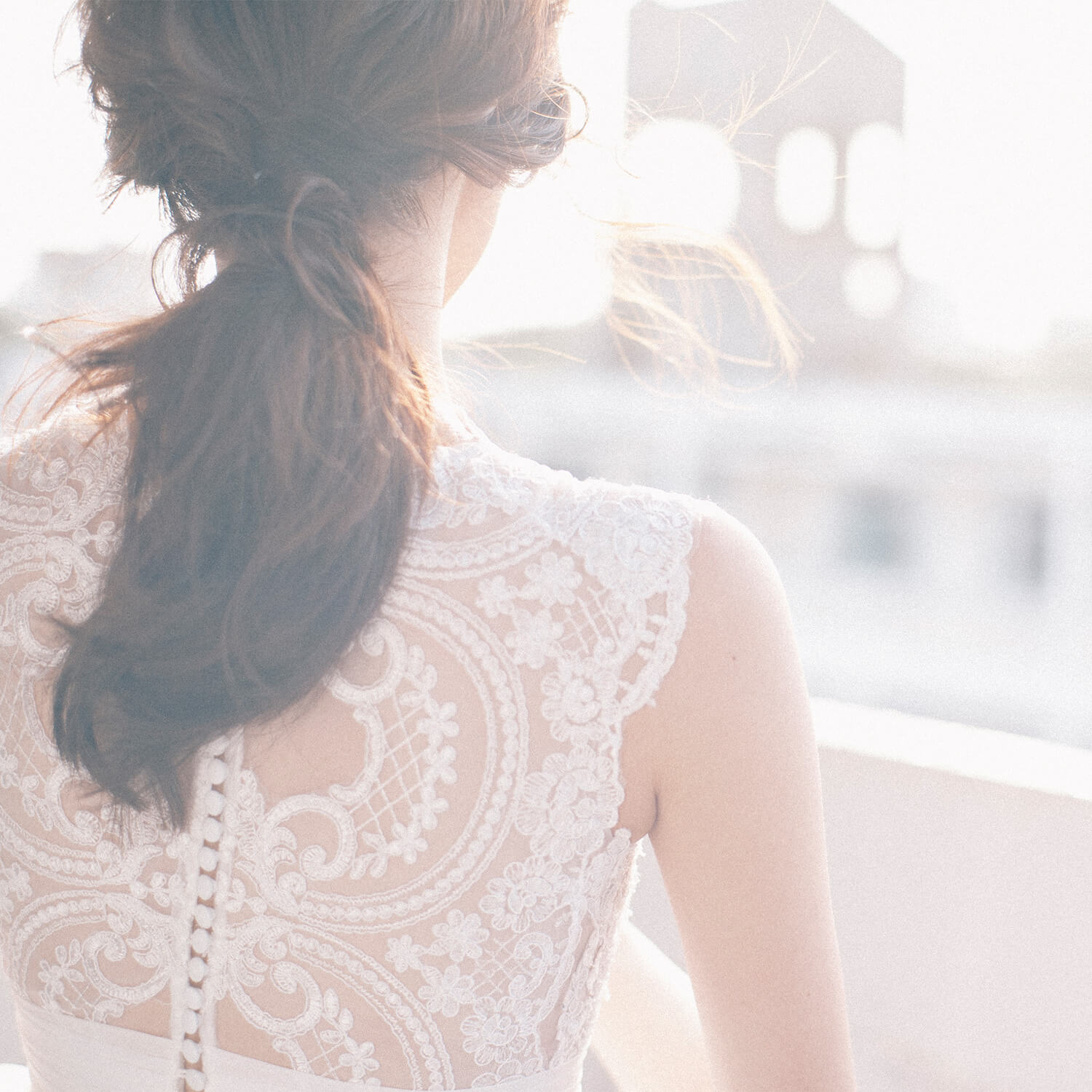 Wedding dress features
We also have an independent dress salon, providing full set outfits for brides and grooms. To pursue the highest quality material, wedding dresses and tuxedos are carefully selected from leading fashion brands in Japan and from European countries. Exquisite workmanship in design details are found in these outfits, providing suitable choices for Asian brides and grooms.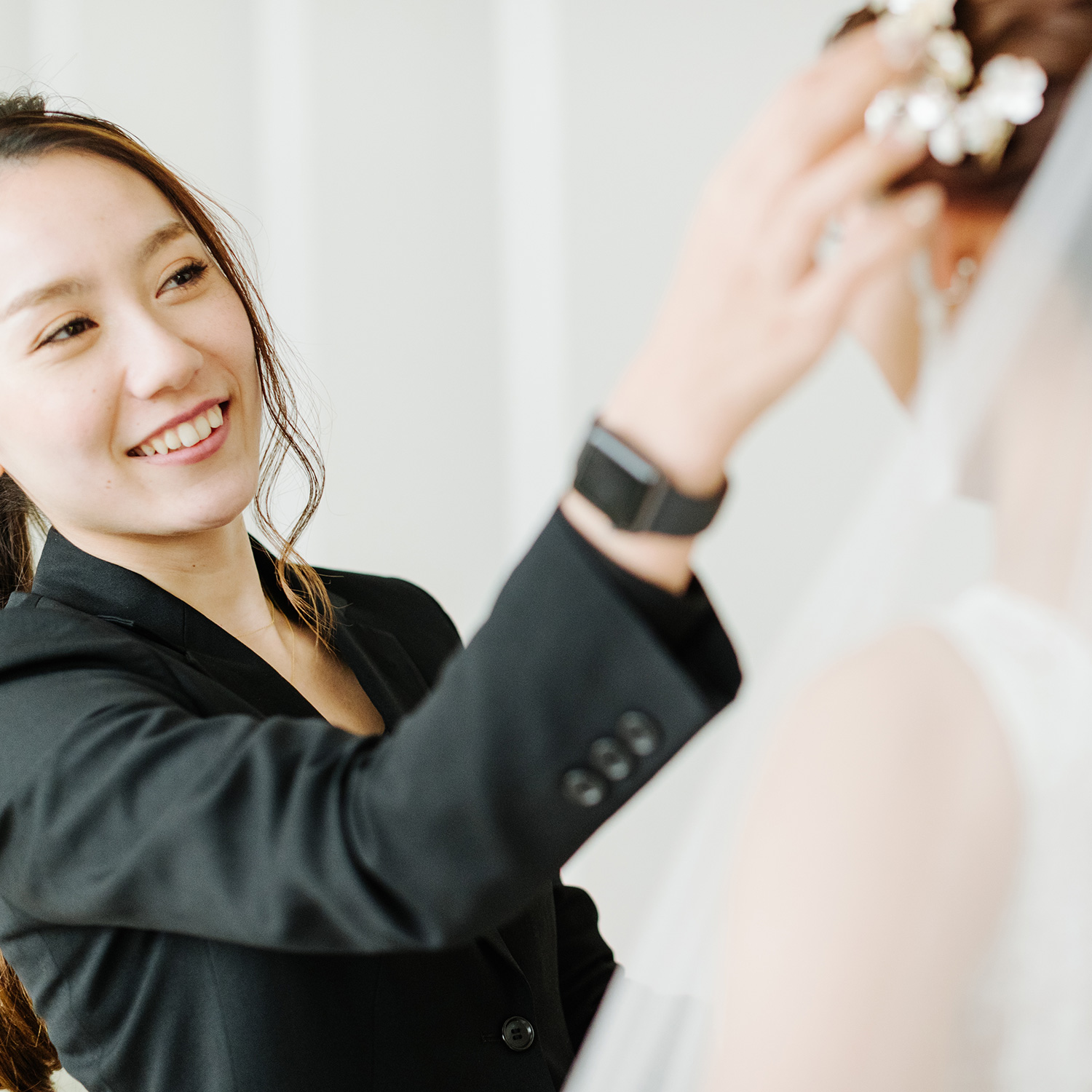 Professional Japanese
make-up artists
On the day of the wedding, a professional Japanese make-up artist who understands the leading bridal make-up trend will be at your service. In order to bring out the natural beauty of the bride, the finished make-up is not only beautiful, but preserves the bride's originality. Whether a wedding ceremony or a pre-wedding photo shoot, the most touching aspect of the bride will be bloomed.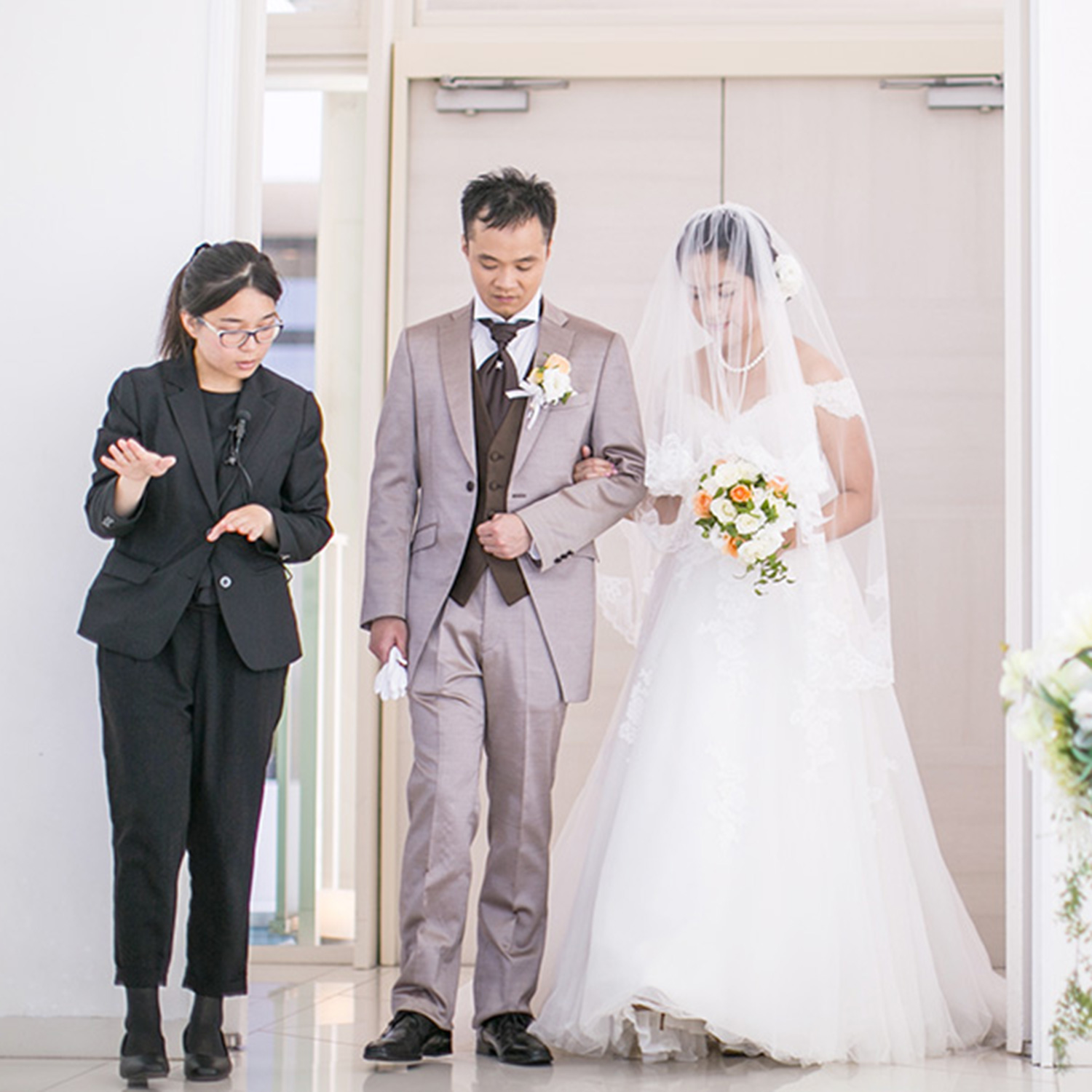 Chinese / English speaking wedding planner
We have a team specifically for overseas clients who are keen into Japanese weddings and wedding photo shoots. Choose from either Chinese or English-speaking staff who will guide you through application, suggestions, wedding details, and follow-ups. A communication bridge between the client and the team will make every effort in planning an overseas wedding smooth and easy.
Weddings specially
made for you
Whether it is a traditional Japanese wedding at a shrine, a western style wedding at a church, an outdoor garden wedding, or a wedding party at a banquet, we will utilize all of our facilities to provide full range of authentic Japanese services. We ensure to work with different needs and preferences of overseas clients to create an unforgettable wedding experience, specially made for you.
SCHEDULE
Flow 01

Get in touch

Please contact us through direct shops or email (japan@la-viephoto.com) for inquiries. It is recommended to book at least 2 months in advance, and avoid weekends and Japanese holidays.

Flow 02

Book a date

After hearing the details, please choose a wedding date as well as the plan and other additional services.(25% deposit is required to officially book a date).

Flow 03

Preparations

Please confirm all details of the wedding by email before arriving in Japan, and reserve your favorite wedding outfits in advance.

Flow 04

Fitting

Please visit our salon the day prior to the wedding for a fitting service, along with a quick meeting to check and confirm the wedding schedule.

Flow 05

Wedding rehearsal

A rehearsal will take place before the ceremony.

Flow 06

The big day

Our staff will help you throughout the day to provide you an unforgettable wedding.
ACCESS
ADDRESS

〒700-0822 岡山県岡山市北区表町1丁目11-38
(ザ・コートヤード表町 3F)
BUSNESS HOURS

11:00〜19:00